Our Leadership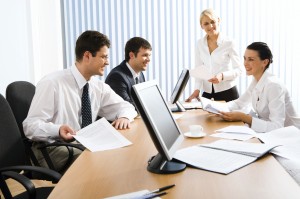 President and Contracting Officer: Ms. Resa Yallaly.
One of the original IRC founders, Ms. Yallaly's work experience has included proposal creation, contract administration, negotiations, IPT support, and customer interfacing on contracts worth up to $500,000,000 annually. Her IRC role includes oversight and operations of all IRC contracting activities.
Chief Technical Officer: Mr Preston A. Cooper
One of the original IRC founders, Mr. Cooper's work experience includes software engineering; process improvement (both CMM-based and CMMI-based); program management; systems engineering; modeling, simulation, and analysis; requirements management; training, and proposal development. His primary IRC roles involve overseeing program execution, technical performance, and quality control. His initial efforts have also included infrastructure development, process improvement, and business development.
Vice President, Tactical Space Applications: Mr. Randy S. "RT" Thompson
Mr. Thompson has over 21 years of experience in project management, rapid prototyping of space-based systems for warfighters, satellite communications, tactical airpower, electronic warfare, contingency planning, weapons planning and operations with the USAF, most recently in the Air Force Tactical Exploitation of National Capabilities (AF TENCAP) unit. Mr. Thompson has extensive experience in the field of tagging, tracking and locating and special communications for special operations and other government agencies.